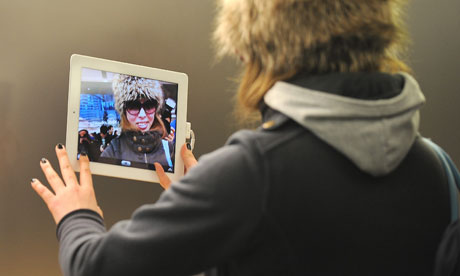 A customer looks at the iPad 2 Photograph: Andrew Gombert/EPA
It's a day for tablets. First
RIM announced US prices and dates
, though not UK ones, for its Playbook tablet.
Now
Apple
has announced the price for the UK version of the
iPad
2, which will work out cheaper - even after the VAT rise introduced in January - than the first version.
Prices are, including VAT:
Wi-Fi only:
16GB: £399.00 (£332.50 ex 20% VAT)
32GB: £479.00 (£399.17 ex 20% VAT)
64GB: £559.00 (£465.83 ex 20% VAT)
Wi-Fi and 3G:
16GB: £499.00 (£415.83 ex 20% VAT)
32GB: £579.00 (£482.50 ex 20% VAT)
64GB: £659.00 (£549.17 ex 20% VAT)
Those compare to prices last year respectively of £429, £499, £599, £529, £599 and £699. Calculating the differences, the retail (with VAT) price has fallen by between 4% and 7%, with the average being 5%; the ex-VAT price (the one you would normally compare against the US price) has fallen by between 5% and 9%, averaging 7.4%.
That is Apple unveiling its next weapon - price - in this battle, where everyone is using every trick that they know to get an edge.
Or is it? It turns out that what's happening is that Apple is indeed cutting prices, but doing it with the help of the exchange rate.
At the moment
$1 = £0.6191
; back in May 2010 (when the iPad launched in the UK and other countries) it
was $1 = £0.682452 (20-day average)
, so the dollar has weakened against the pound (you need fewer pounds to buy a dollar now than you did). The dollar, in fact, is about 10% lower now than it was against the pound last May.
In turn, that means that $499, the iPad price in 2010 and 2011, equated in 2010 to £340.54, but is now £304.69. (In other words: it takes fewer pounds to get the $499 that Apple wants to get for each iPad sold.)
So it might seem like Apple is doing everyone an enormous favour by cutting the price (and it certainly won't hurt sales), but it is actually benefiting from the movement in exchange rates - in fact, it's going to make
more
profit from iPad sales this year than last year, even with a lower price.
A couple more interesting wrinkles to the iPad 2 launch internationally: sales won't start until 5pm in the evening of Friday, or 1am that day if you're ordering online. Why has it chosen such a time of day to do it? No word on that (we have called Apple but got no response), but there's the faintest possibility that it's to discourage the people who made the lives of would-be iPad buyers in the US hell - buying up loads of them in order to ship them off to the Far East. And another clue that that is the motive comes from the fact that sales in Hong Kong, Singapore and South Korea won't start for another two weeks, even while the other 25 countries (Australia, Austria, Belgium, Canada, Czech Republic, Denmark, Finland, France, Germany, Greece, Hungary, Iceland, Ireland, Italy, Luxembourg, Mexico, Netherlands, New Zealand, Norway, Poland, Portugal, Spain, Sweden, Switzerland and the UK) get theirs. (Though that won't really dissuade them - they'll just come back at the weekend, surely.)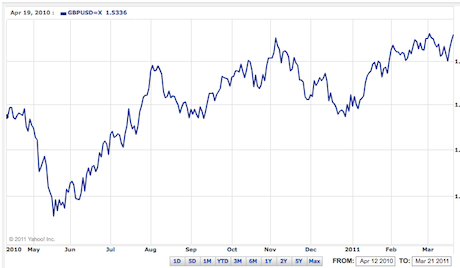 And just to add to the tablet fun, at CTIA Samsung has announced (or possible re-announced) its tablets and pricing. There will be the Galaxy Tab 10.1 (guess the screen size), to be released on 8 June - running Android 3.0 ("Honeycomb"). Prices: $499 (16GB), $599 (32GB). The Galaxy 8.9 will be priced at $469 (16GB), $499 (32GB), and be released in "early summer".
So is this iPad competition? Well, Honeycomb is certainly nice, and that's price-competitive with the iPad, at least in the US. UK prices haven't been set (or suggested) and the release date is only "later this year". Samsung didn't want to share sales figures either: "those are only for internal use," we were told. (The press release and details haven't made it to
Samsung's online press releases
.)
The list of tablets that have been announced is thus growing ever longer, but the list of those actually seen in the wild in the UK remains extremely short - the iPad and the Samsung Galaxy Tab (and now
@Dirkbruere's
Advent Vega) being the principal ones. Anyone else got a tablet not in that list that they've bought in the UK this year? And what do you think of it?